AlliedOffsets latest voluntary carbon market reports predict supply for credits could reach up to 600 million tonnes by 2030
The report findings indicate that demand for credits could reach 1.5 billion tonnes by 2030 as more unique buyers are continuing to enter the market compared to previous years.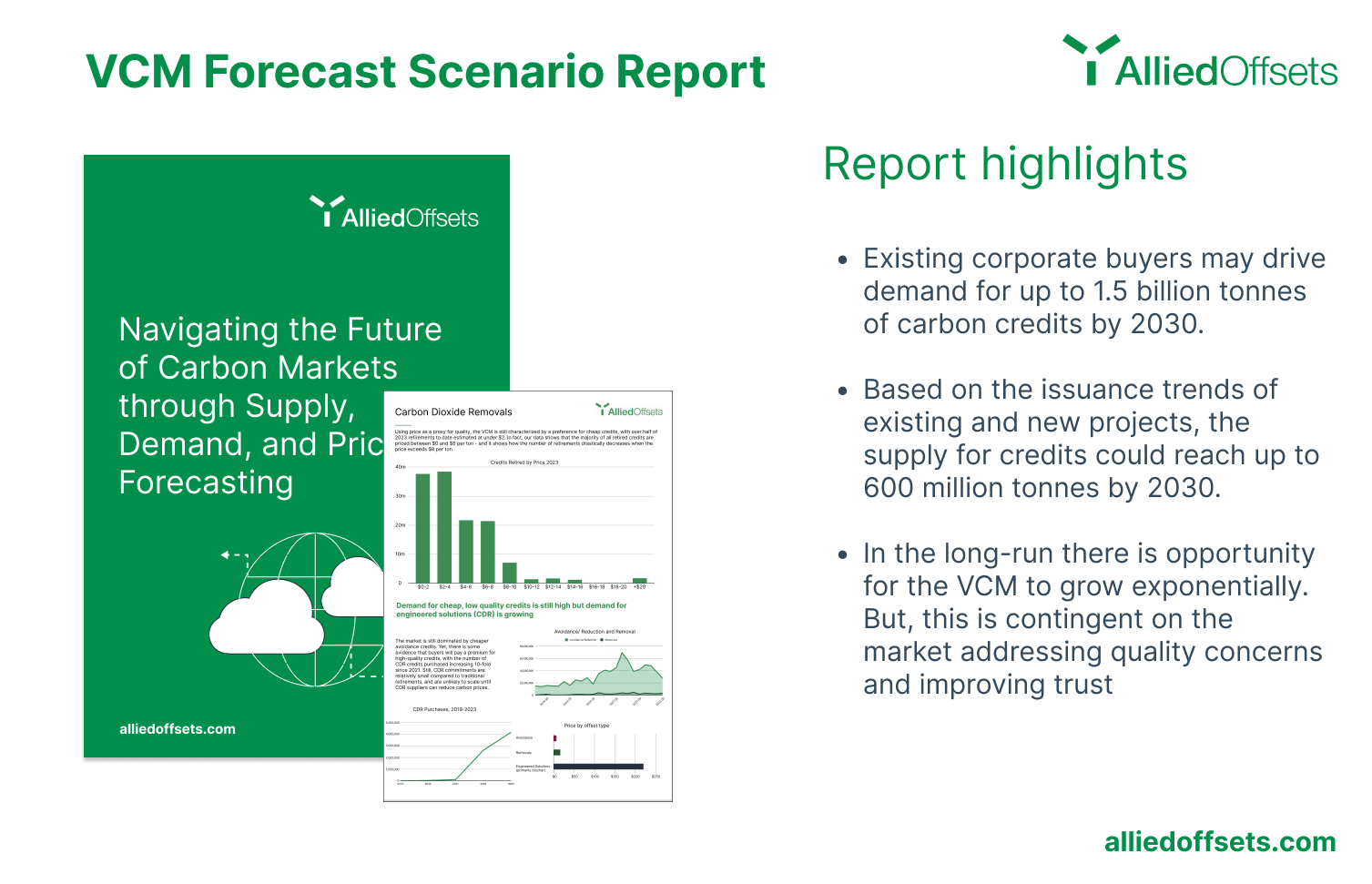 London, UK - 14th November 2023 - AlliedOffsets, the world's largest aggregated database for the voluntary carbon market, has released a comprehensive forecast scenario report for the voluntary carbon market.
2023 has seen lowered activity in the market: whilst the number of retirements is well above the pre-2021 levels, the retirements through the end of October 2023 are about 20% below the same time a year ago. With only a couple of months to go in 2023, it's likely that the total retirements for the year will land under 200m.
Yet, there are many signs that are suggesting that the market will continue to grow in the coming years. For instance as of October 2023, approximately one third of companies with climate action targets have engaged in the VCM. This surge in SBTi commitments underscores a broader transformation in the corporate landscape, driven by a sense of global environmental urgency. Furthermore, new data from AlliedOffsets reveals that companies are entering the VCM at a rate of 25-40% per year, signaling robust market growth.
Supply forecasting, based on historical data, project pipelines, and regulatory changes, provides further insights into the availability of carbon credits. AlliedOffsets predicts supply for credits could reach up to 600 million tonnes by 2030.
The data suggests that existing projects are expected to contribute around 380 million tonnes to the market. New projects are projected to contribute around 210 million, assuming historical growth rates continue. Pending projects will also contribute to the growing supply of credits in the market.
Demand forecasting is another critical aspect of the report, and the analysis provides a comprehensive view of the role carbon markets play in aligning the world with its climate targets. The report includes a detailed forecast for existing corporate buyers, indicating that they may drive demand for up to 1.5 billion tonnes of carbon credits by 2030.
Furthermore, by using price as a proxy for quality, AlliedOffsets data reveals that the VCM still leans towards cheaper credits, with the majority of retirements priced below $6 per ton. However, there's evidence that buyers are willing to pay a premium for high-quality credits, with the number of Carbon Dioxide Removal credits purchased increasing significantly since 2021.
In sum, AlliedOffsets' report underscores the important role of the VCM in advancing corporate environmental responsibility and shows that there are many signs suggesting that the market will continue to grow in the coming years.
For further details and to access the full report, please visit this link.